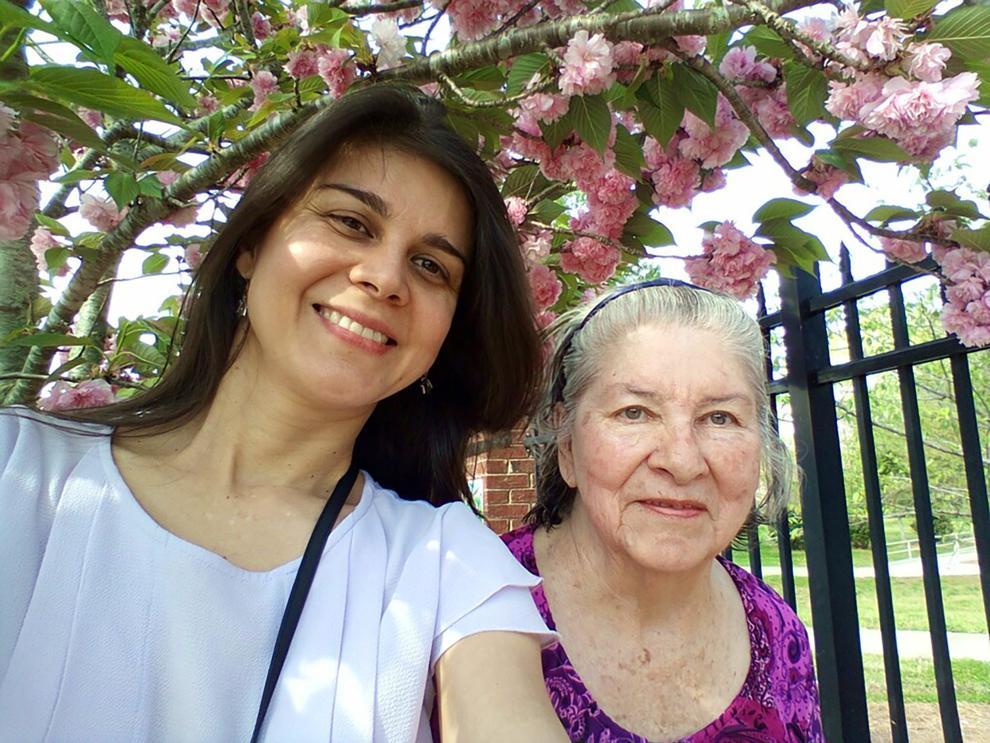 Diane Rouviere, left, knew she needed more help for her 80-year-old mother, Myriam Carrillo, and she found it through Council on Aging in Union County's group respite program.
By Nancy Stephen
For Diane Rouviere, the Council on Aging in Union County's respite program is a godsend.
The Union County resident has seen her 80-year-old mother, Myriam Carrillo, become weakened by falls, aging and the onset of dementia; she needed more attention.
Diane says she stumbled onto Next Door Group Respite while searching for support for her mother. "It was a miracle. It was one of those moments — this is it. I visited there and talked to the staff, and they talked to my mother. It's a beautiful thing."
Next Door is a weekday program for county residents with memory loss. Andrew Friend, executive director of the Council on Aging, is proud of the program that offers an alternative to 24-hour interaction with only family caregivers. "Our high staff to participant ratio lets us create a person-centered approach. We find out what is important to our participants and accommodate that, if possible."
Topping out at 10 attendees a day, Next Door allows participants to engage in meaningful social and recreational activities which helps maximize their cognitive and social abilities. "At the same time," Friend says, "our day program provides relief and support to family caregivers.
"Our program helps families keep their loved ones living at home while it also gives caregivers much-needed time for other tasks as well as self-care. Taking care of an older or ill family member can be enormously rewarding, but it can be physically and emotionally draining as well," Friend says. "Without self-care, caregivers can experience burnout quickly."
Rouviere agrees. "It has been a relief for us. My mother feels so comfortable there. And I feel comfortable with her in the program."
The daughter has been impressed with "how inclusive the program is." Her mother, a resident of Colombia until she moved in with her daughter in 2012, speaks Spanish, but the language difference hasn't been a barrier. "They use Google Translate sometimes," she says of the staff, adding that her mother has picked up a few words of English, too.
Watching her mother age has been difficult for Rouviere, who was accustomed to seeing her healthy and independent. Within two months last fall, her mother fell twice, experiencing multiple broken bones. After the falls, the family saw continued physical changes and cognitive impairment as well as the diagnoses of Parkinson's Disease and dementia. "She relies on me more."
Rouviere says the other Next Door participants also have memory problems, but that doesn't mean the atmosphere is somber. "The ladies are cheery and happy — each one of them. My mother feels so much love there. And I feel so much love.
"I am so grateful for this group. They make her feel important, give her some dignity in this difficult time."
Rouviere says her mother is aware of her health changes but isn't morose. "Every morning, she says, 'Thank you, God, because I'm alive today, even with my pains'."
Ongoing pain resulting from her falls prompts Myriam to visit one doctor or another regularly. Her daughter takes her to physical therapy twice a week, but also to her primary care doctor and multiple specialists.
"This program really helps me out," Rouviere says. The staff and volunteers "are professional. And they're giving from the heart point of view. It's God's calling."
After a day at Next Door, her mother often tells what she did during the day. "Sometimes she forgets the meals, but she shares how she feels. She wants to be there every day. She feels a lot of love there."
Staff and other participants "make her feel so welcome. She's welcomed to sing or say a poem. In spite of the language, the ladies made her feel very welcome."
The five-hour daily program is well-rounded, providing age and ability-related activities, socialization and companionship. You might see a participant chopping food for lunch or helping to prepare a snack. Or dancing with each other or staff or performing chair exercises. They might be doing arts and crafts or planting flowers. The list of activities each week is expansive.
The facility itself is cozy and comfortable, making attending the program like visiting in a friend's home, complete with kitchen and living room, plus outdoor gazebo and secure yard.
Interaction with others her age has been valuable to Myriam. "She was kind of alone here," says Rouviere. "It's a good opportunity for her to get socialized."
Before finding the Next Door program, Diane says "I had been crying; I was overwhelmed. It's like a rollercoaster." But through connecting with other Council services, she has learned how to better care for her mother and herself. She received Parkinson's and memory-related books, "which have given me the chance to learn. I'm learning to practice self-care and how I can help my mother."
Diane says that instead of only being sad, she has become "grateful for having my mother every day. I'm helping her like she helped me as a child."
Ultimately, Next Door and the Council on Aging "make me a better caregiver," she says. "It's helping me to have her here at home. It helps me and it helps my mother.
"Sometimes you're not prepared to help with your aging parents," Diane says. "I'm learning along the journey. It's part of life. I am preparing for giving her the best life in her ending years."
If you are interested in the Next Door Group program or other Council on Aging programming, call (704) 292-1797 for more information.
For more information on Next Door Respite or other Council on Aging services, visit www.COAunion.org, on Facebook or Instagram and by calling (704) 292-1797.