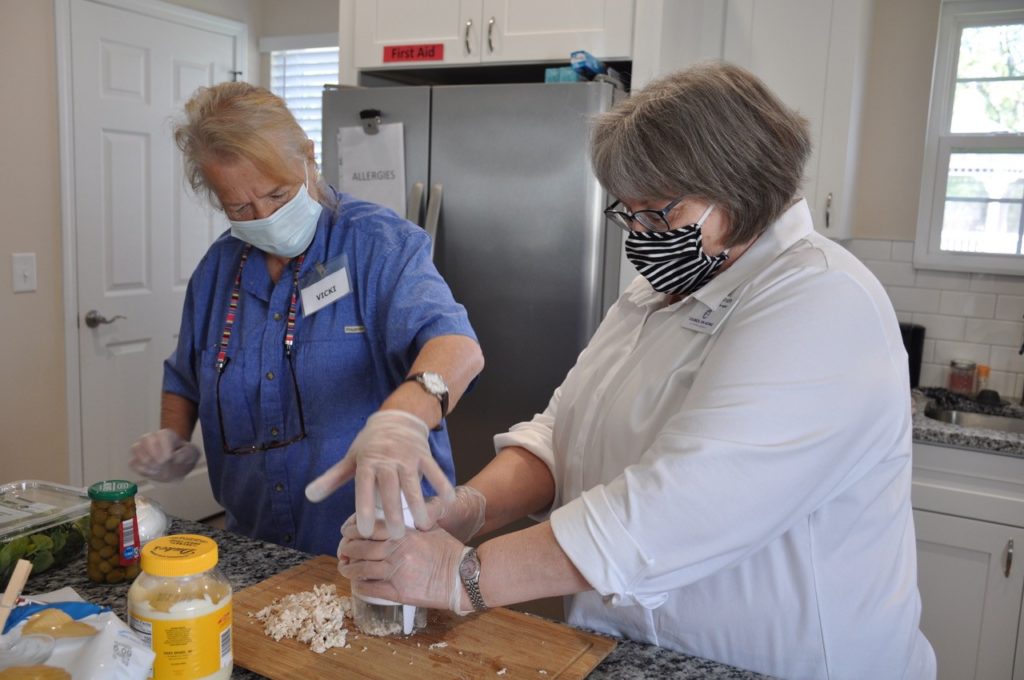 A Next Door Group Respite participant helps prepare lunch with Margery Lindh, interim group respite manager.
By Nancy Stephen
MONROE — "Aging isn't for sissies."
Plaques with sayings about aging abound. But for many aging citizens, these statements aren't humorous — they're all too real.
A growing number of Union County senior citizens encounter life-challenging situations they never expected. Their retirement income or Social Security doesn't pay all the bills. Their health, or that of their spouse, is deteriorating. They are physically unable to take care of their home or even themselves in the manner they're accustomed.
That's why the Council on Aging in Union County exists and continues to expand services.
The nonprofit organization offers many supportive services to seniors 60 and older, all but one free to clients, and all designed to keep them living at home.
"We primarily provide for those who don't qualify for Medicaid but cannot pay for home care agency services," explains Andrew Friend, executive director of the Council. He tells of a single senior citizen whose Social Security might be $1,200 a month. They wouldn't qualify for Medicaid services but they can't pay upwards of $20 an hour for paid services.
"Many people don't realize that Medicare won't pay for in-home care and family caregiver support or provide free medical equipment and incontinence supplies," Friend says. "If you don't qualify for Medicaid, you must pay privately or go without services. That's where we come in.
"We advocate for the well-being of older adults by providing services and resources for them to live independently," Friend says, reading the organization's recently-adopted mission statement.
"These are the last years of their lives, why not make them as meaningful as possible?" he says. "Older people have wisdom and so much to share. Often times, they're forgotten. Society needs to appreciate older people and how much they have to offer our next generations."
Not only are senior needs are increasing, but the percentage of aging adults is growing very rapidly.
In 2019, Union County had 44,050 residents 60 and older, or 19% of the county's population. By 2039, however, those numbers are expected to rise to 87,555 residents 60 and older or 25% of the county's population. That's a 98.8% increase in 20 years!
"Our agency must prepare to serve that growth — really to serve double the number of people that we're serving now," says Friend. The volunteer board of directors last month adopted a three-year strategic plan to help address the county's growing senior population.
Here are services that the Council on Aging provides.
In-home aide services
Trained staff visits the home once or twice a week, providing assistance with personal care, household chores, errands and respite at no cost. Currently, aides are serving 150 clients and the Council intends to add more.
Friend says the organization plans multiple fundraising opportunities to add five additional aides within the next three years. "That will allow us to serve about 40% more clients."
"Unfortunately, we are maxed out on allowable funding we can receive through Home and Community Care Block Grant," Friend says. "We're spending all the funding we receive."
"It takes a very special person to care for the elderly," he says. "In-home aides are heroes in our community. They have to have compassion and patience to make sure our clients can live with the dignity that they deserve and the care that they need."
Information and referrals
"We supply a lot of information and referrals to older adults looking for assistance or a resource," Friend says. Seniors frequently seek information on lower-cost housing options, choosing a Medicare supplement and finding a way to reduce prescription costs.
The agency provides SHIIP counseling, which is unbiased Medicare assistance to help clients understand coverage and save money.
"We also help people sort and understand their medical bills," Friend says. "We help them determine 'Should I pay this or will my insurance cover it' because they're looking at a provider bill for maybe thousands of dollars. Often, they don't need to pay it."
Loan of durable medical equipment
Council on Aging provides wheelchairs, walkers, shower chairs, raised toilet seats, bedside commodes and canes free of charge to seniors in need. "This is a very popular service," Friend says.
"You keep the equipment for as long as you need it," he says, adding that some clients have kept equipment for years. "We don't ask for it back. Once we give it to you, it's yours. But if it's in good condition, you can bring it back and we can distribute it to someone else." The agency recently received an additional 12 bedside commodes from Atrium Health.
Incontinence supplies
The agency depends on donations of disposable briefs and bed pads to supply the public's need, which has grown exponentially. "Two years ago, we were giving out 35 packages of incontinent supplies a month; now it's 350 packages. The majority comes from donations. People with a leftover supply often bring them in; others just want to donate. We give all the donations back out to the public." Again, at no charge.
Next Door group respite
Designed for residents experiencing dementia, this program provides up to five hours a day for respite. "We call it a clubhouse, not a daycare, because our participants are adults and we treat them that way." Friend says. Participants attend up to four times a week and enjoy recreational and social activities. They might be exercising or dancing with staff and volunteers, or playing games, painting, planting outside
This is the only Council on Aging program that has a fee. The charge is $40 a day; however, some assistance may be available. Lunch and snacks are included.
Family caregiver support
"Family members who are caring for a loved one have a very difficult job," Friend says. "And that's often in addition to their regular job. We work to help the family caregiver take care of themselves so they can take care of their loved one. We provide caregiver classes, support groups, tools and resources, respite care and caregiver relief or community support groups."
Services include information and help to access available resources, caregiver training to assist with decision making and problem solving plus caregiver support programs, monthly Memory Café events, virtual support groups, a caregiver book club, temporary respite and more. Support also is offered to grandparents raising grandchildren 18 or younger.
For more information on the Council on Aging and its services, visit www.COAunion.org, on Facebook or Instagram and by calling (704) 292-1797.
Last year, despite in-person programming being closed or limited significantly due to Covid, the Council on Aging provided almost 19,000 hours of direct services to senior citizens in Union County. It:
Provided 13,115 hours of in-home care
Saved clients $351,694 through Medicare counseling
Supplied 1,868 packages of incontinence supplies
Assisted 3,120 individuals with information and counseling
Gave 3,775 hours of respite care at Next. Door
Provided support and respite to 428 family caregivers
Furnished 648 pieces of durable medical equipment
For more information on the Council on Aging and its services, go to www.COAunion.org, Facebook or Instagram, or call (704) 292-1797.