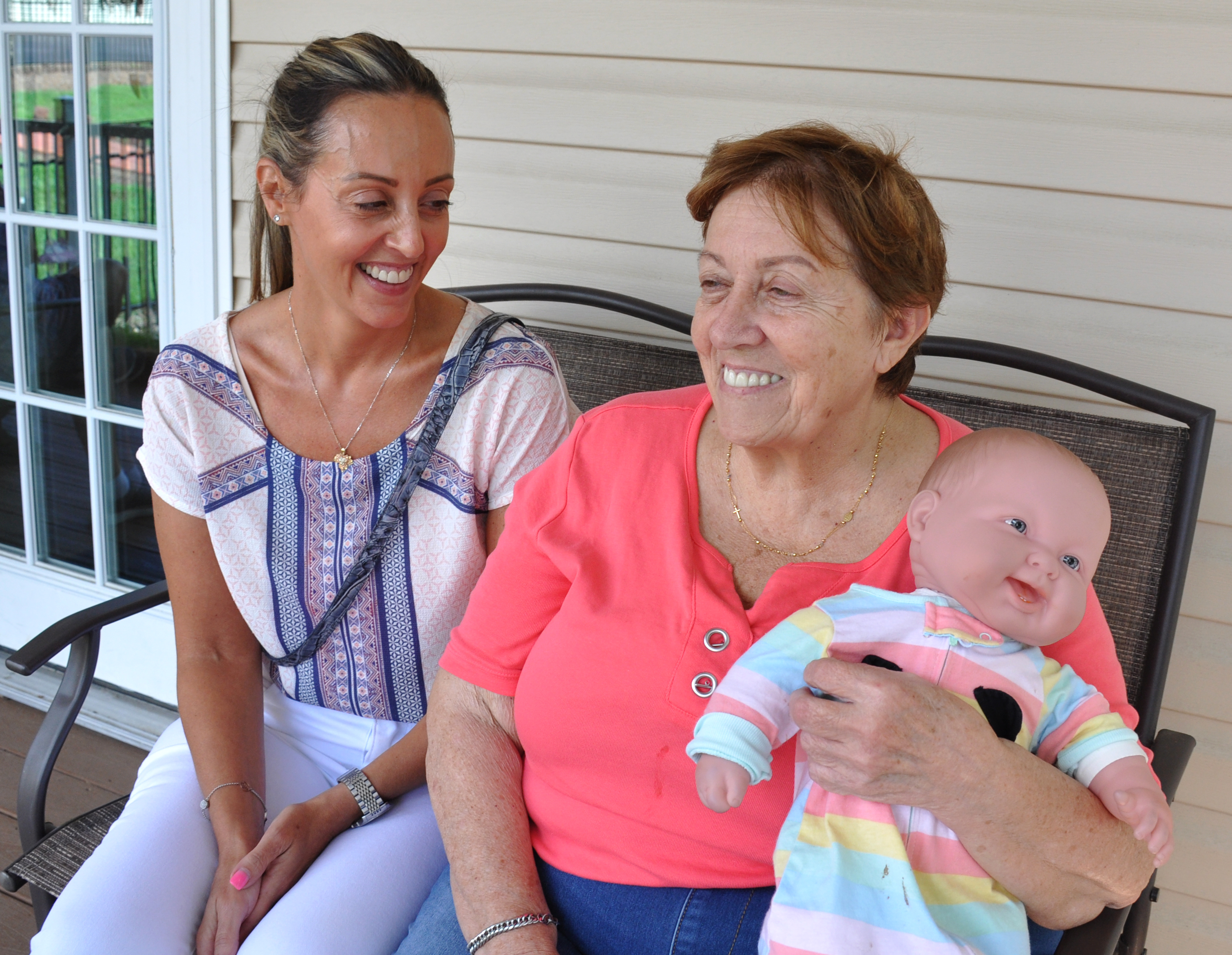 Family creates 'village' of support for loved one with memory loss
"My mother always wanted to maintain her independence," says Kathy Catu of Waxhaw.
"She never wanted to feel like a burden. . . I never want her to feel like a burden. I know that everything she is going through, it's not her fault. It's not her. It's the disease."
The disease is Alzheimer's, a degenerative brain disease and the most common form of dementia. According to the Alzheimer's Association, 55 million people worldwide are living with Alzheimer's and other dementias.
Despite the Alzheimer's diagnose that prompted her 75-year-old mother, Maggie Hrvatin, moving from independent living in Florida to living with family in North Carolina in 2019, Kathy says her mother is anything but a burden. Instead, she's a joy to her extended family.
Kathy's in-laws were planning to move from Florida to North Carolina when the family realized Maggie could no longer live alone. What if Maggie moved with them to North Carolina, close to Kathy and her husband Alan, where they could share caregiving responsibilities? Kathy questioned.
That would create a larger caregiving network, Kathy thought.
When the elder Catus and Maggie moved to Union County, they established a joint household similar to Maggie's home in Florida so it would feel familiar. The elder Catus became the primary care providers for Maggie.
"It's a very unique situation," Kathy acknowledges; "and it's very generous of them. 
"I'm able to provide respite for them; they're able to provide respite for us. And Next Door (at Council on Aging) provides respite to all of us. 
"You get so burned out so easily," Kathy says of providing care for a loved one with dementia, "so the fact that we have all of this support has made all the difference."
Maggie's dementia hasn't progressed as much as expected because of the support at home, in both families and the Next Door family, Kathy said. Her doctor credits that stimulation and change of scenery for Maggie's medical stability. 
Maggie attends Council on Aging's Next Door program, visiting the clubhouse four days a week for five hours each day. That time with other seniors experiencing dementia and trained staff and volunteers is valuable to everyone in Kathy's family.
Next Door staff and volunteers provide memory-appropriate social and recreational opportunities in a home-like clubhouse next door to the Council's office. Equally important is the break Next Door provides family caregivers who use this time to "recharge" by taking care of themselves, running errands, visiting with friends or even taking a much-needed nap! 
"My peace of mind when she's at Next Door is priceless," Kathy says. "With Next Door, it's almost like an extended family – it's unique. You feel the love, compassion and caring every time you go in. To know that your loved one is with people who care so deeply means the world."
On weekends when Next Door is closed, Maggie misses the program and her friends there.
"She gets a lot of stimulation there with all the activities they do – painting, dancing, games they play together, having lunch with each other.
"It's a dual benefit ­ professional support for her and respite time for the family. And she enjoys it."
Kathy says providing care for her mother is a group effort. "It takes a village. This is my village ­ my in-laws and Next Door. 
"I feel blessed; I'm very grateful. I don't think I could have done this on my own; I don't know how I'd do it without becoming completely worn out.
"I never want to feel resentment. In her prime, my mom was the most amazing woman that you will ever meet ­ the most giving, generous person. She deserves the best and so much more."
To best provide care for her mother, Kathy takes advantage of a second Council on Aging program geared to families experiencing dementia. Memory Café is a once-a-month program for caregivers and their loved ones to learn and grow with other families experiencing similar health issues. 
"It's has been wonderful. I go with my mom; it's for caregivers and loved ones. It's an opportunity for everyone to get together, talk, interact, play games, do arts and craft. 
"We have so much in common with all the participants; we have the same struggles. It's a nice way to know that you're not alone and other people are going through this.
"We get tips from each other; it's a wonderful program."
Council on Aging in Union County advocates for the well-being of older adults by providing services and resources for them to live independently. If you need assistance for yourself or your family and to learn more about any Council on Aging's program, visit www.COAunionorg, 1401 Skyway Drive in Monroe or call 704-292-1797.